ANNE HUDSON
A talented finger painter
---
Anne Hudson lived in Crondall Street Hoxton N1 next to the school keepers House in the late fifties early sixties. I went to school with Lydia her elder daughter who was very well spoken compared to the rest of us kids.
Barbara Graham
---
Further down on this page there are even paintings for sale. If you like Anne's paintings, you should know there will not be many chances to buy one. I can help you get in contact with those, who wants to sell
---
This page was first made in some years back. Then I get the above from Suzanne, which made me so happy. And now another feedback. I think this is awesome and shows the very best of how the Internet can be used. So grateful!!
---
Hi Maud, picture of an Anne Hudson picture that hangs in my vintage clothes shop, its three Siamese in chalk by the looks of it .Everyone who comes in comments on it. mark

I will keep you posted if I am lucky enough to find another of her works. I look at antique fairs and boot sales now when out buying vintage fashion. I would love the ballet dancers, it's really cool. mark
---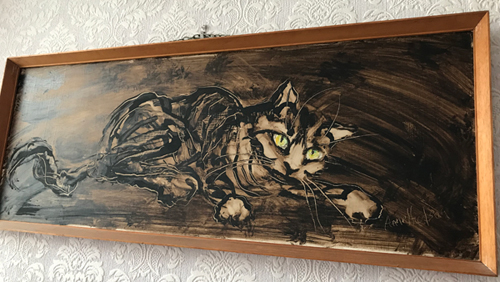 Hello I hope this is correct email
My dad bought this when he was in his 20s in a cafe in bishopsgate. He paid 30 shillings. He's 87 now, just got interested to know about the artist regards Simon
Can you tell me about her, dad wants to know if he's a millionaire, lol. He says was just before he went into the RAF. I've grown up with that all my life and never thought to look her up
He paid about K10 for it current money so he's probably made a few bob but I hope you like The pic
Hello thank you so much for letting me know and putting the picture up so others can enjoy it Regards Simon ps I told him he's not going to be rich
---
Hi Maud,
there is a lot of joy in looking at the Anne Hudson part of your website, many thanks for your work on this. We have a small collection of her pictures and I would very much like another one as a Christmas gift for my wife...do you happen to know of any for sale?
with very best wishes, Brian Grout
Tusind tak, Maud
Brian
many thanks, I will follow this up
Brian
---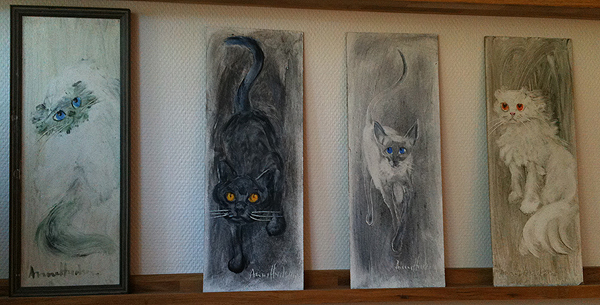 This picture is taken at SVERAK's office. SVERAK is the main organization in Sweden for cat clubs with over 50 members.
---
---
Another contributor! Especially I like the "young lady-stuff" (being 68, hehe)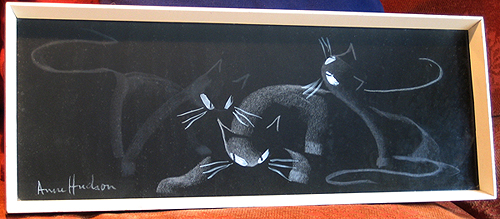 Hello Maud,
I came across your wonderful web site whilst searching for information regarding the artist Anne Hudson as I've recently acquired one of her pieces which you will find attached. It is very similar to one already on your site.
As well as being a professional Photographer I deal in fine art and antiques. Anne's picture captivated me frankly, I simply adore it!
Have to say your web site is truly fabulous! Keep up the good work. You should be most proud of yourself young lady. I particularly liked your line about loving an animal. I concur without hesitation!!
Very kind regards, Mario
---
My first job was an apprenticeship at Ross Projects, Bourne End Buckinghamshire UK. When I was 16 Years old in 1962, making wooden products we made spice racks, room dividers, record cabinets and TV tables for Times Furnishings. One thing I remember is framing pictures of cats and horses, a Lady by the name of Anne Hudson would come to work and paint pictures of cats and horses. My older brother who worked with me, bought two pictures of cats for Mum done by Anne Hudson for Christmas that year, and I have both pictures now, I hope this is of interest.
Yours Fatherly, David Camden.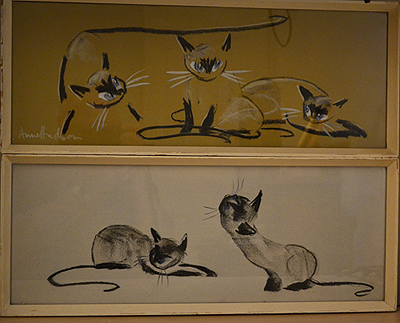 ---
One by one I get these wonderful contacts. This painting is even for sale!

Hello there
I have an Anne Hudson painting, which belonged to my mother. I thought you might like to see it.
Also, I am downsizing, and am considering selling it. Do you have any ideas about how I could find someone to appreciate it? My mother adored it, and it has been lovely finding your site and seeing similar paintings
Best regards, Daniele Minns
---
---


These paintings MIGHT be for sale
Dear Maud,
You have created a lovely web site, it must have taken a lot of work well done.
I have 2 Anne Hudson paintings that belonged to my late mother. I have had them for 15 years now, but am in the process of starting my own business and need to raise some capital. Do you know if any of Anne's paintings have sold and for what value?
I would be so grateful if you could give me even a rough idea.
Thank you & kind regards, Susan Foley Coughlan.
---
One precious letter again. I hope you guys realize how much I appreciate to hear from everyone. Look at this fantastic painting and enjoy.

Dear Maud

How are you?

This picture hung in my London home when I was growing up. Today I was clearing my Mother's house and came across it. I remember my Mother telling me that it was by a 'proper' artist . I think she may have even known her. Anyway she obviously loved the picture as there it was safe and sound 50 years later. I seem to remember there was another one similar, but that was not there today.

So I came home and Googled Anne Hudson and was lucky enough to come across your site.

I thought you would like to see the horses in all their movement and beauty and they might make a good addition to your on-line collection

Thank you,

Ruth
---
Thank you for your page on Anne - I have attached the two pictures I currently own, but have just listed on ebay. The images, I hope, will be of interest to your fans and yourself /John

Lots of thanks for your contribution to Anne's page. Did you get them sold? May I ask how much? /Maud

I did- £35 for the pair- and off to a cat lover I think /John
---
Hi

I have the attached picture which is hanging in my hall, I love and it has been admired. I have often thought of going online and finding out more about the artist. I found your site very interesting and it was really strange seeing more ballet dancer figures. The picture belonged to my grand mother who I think brought it up from London when she moved to Oban circa 1955. I have had it re mounted and framed as my granny was a very keen smoker!! Unfortunately she died a few years ago so I have no way of really knowing how she came by it. Her name was Flo Webster (maiden name McDonald). Maybe someone out there knows the connection.

Regards /Lorna Conway
---
---
Since I moved into my small bungalow six years ago, my cat ballet pictures have been in the hall where they welcome my friends.
I can remember taking my son in his pushchair to the pond at Hampstead around 1960. We had travelled by bus from Hornsey as I wanted to see all the paintings that I had heard about. It was a wonderful sight, all these colouful paintings tied to the railings. I fell in love with the cat ballet straight away but didn't feel sure enough to buy them so I just took the card that said which gallery you could see them. My husband went off to play golf the following Wednesday or so I thought!
Imagine my excitement when he came home with two of the cat ballet pictures. For years they took pride of place in the sittingroom and when we moved many years later we decided to put them in our bedroom.
When I "downsized" to the bungalow I still couldn't bear to part with them, so they are still with me after all these years. If I can get someone to photograph them I will send you copies to add to your collection. It was one of my friends who suggested I google Anne Hudson
- so glad I did. Thank you
Elisabeth
---
Sorry it has taken me so long to send these photos of the cat ballet pictures that we purchased in the 1960's. Better late than never. The other one will be along in a minute. Regards Elizabeth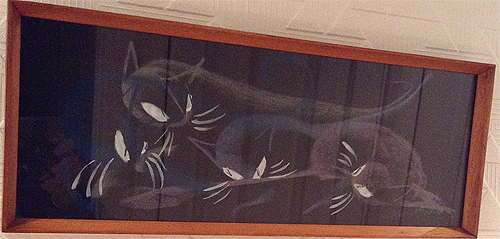 ---
I have a small one of three dancers found at an estate sale. On the back of the picture frame someone wrote, The works of a wandering artist at The Mandrake Club, Soho, London England Sept. 1956. Makes one wonder how it ended up in Little Rock, Arkansas. I can send pictures if you like. I would like to sell it if I knew a price.
Cynthia
---

Hello Maud,
I found your page looking on the Internet for information about Anne Hudson & it was lovely to see other picture by her and a bit of her history. I thought I would send you a photo of my Anne Hudson that I inherited from grandmother about 15 years ago as unfortunately it will be going to auction very soon.
Fiona
---
---
| | |
| --- | --- |
| | I have a small one of three dancers found at an estate sale.On the back of the picture frame someone wrote, The works of a wandering artist at The Mandrake Club, Soho, London England Sept. 1956. Makes one wonder how it ended up in Little Rock, Arkansas. I can send pictures if you like. I would like to sell it if I knew a price. |
---
| | |
| --- | --- |
| | Hi Maud. So glad I found your website about Anne Hudson. I have tried to find out about her since I bought one of her chalk pictures a few years ago. I have attached a photo of it. I think her cat pictures (especially the chalks on black paper) are so stylish.If anyone is still interested in selling a similar picture to go with the one I have I would be very interested to hear from them. Hope you enjoy the picture. All the best, John. |
---
---

Thank you for your amazing website. I live in Thunder Bay Ontario, Cananda. I found this wonderful painting of a siamese cat with her 8 mischeivous kittens at a thrift store about 3 years ago. I put it on the front seat of my car and it made me smile the all the way home, as it still does every time I look at it.
On the back of the frame is printed ANNE HUDSON 2, BRIDPORT PLACE, N.I. Do you know if she ever lived at this address? I would appreciate anything you could tell me about this painting.
Heather Batson
---
---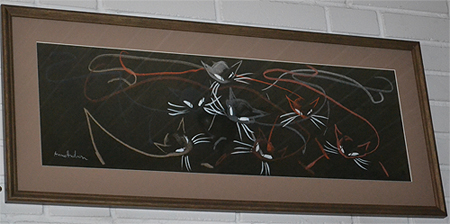 Hi Maud
I came across your web page completely by accident and was very surprised. I was born in Hoxton in 1959 ,when I was a young child my mother worked in the local grocery store. Anne was a frequent customer and I met her many times as my mother often took me to the shop whilst she was working.
I have no idea how my mother came to own one of Anne's paintings but my Mum gave this to me a couple of years before she died. She often talked of Anne and always referred to her as 'bohemian' ,Indeed she was a character. This picture now hangs in our lounge in Denmark.
I hope you find this of interest/ Mandy Grout.
.......................
I don't think I ever met her children, but i definitely met Anne. The family my mother worked for were called Mr & Mrs Yearley, they were well known and respected in Hoxton. Their shop was in Bridport Place / New North Road, London N1/ Mandy
---
Hi Maud, I have a Anne Hudson chalk drawing which I bought in an antiques centre in lancashire on a 'vintage' stall about 6 years ago...I got it out yesterday to show my partner as it lives in my sewing room and he hasn't seen it...then it fell over and the frame was damaged more than it was before...do you think it would be ok to get it reframed... I love this picture as it represents my last three cats ...only now down to one....in size and rank perfectly..so cute and caught so well in a few short strokes...I would appreciate your advice as I know nothing about the artist except what I have read on your page here xxx Kind Regards Samantha Hamer.
---
If you have a picture of Anne's paintings or even of Anne herself, please send it to me and I might include it in this page.
I will try to take care of your mail adresses. Some of you might want to buy and some to sell. Read this page and ask me if I still can find the mail in my disorganized systems to whomever you wishes to contact
The page has grown so much I need to divide it into several pages. Please press the Next button