Denna sommaren har varit lyxig för mig. Två veckors semester, först en vecka i maj i Bulgarien och sedan i september en vecka på Djerba utanför Tunisiens östkust.
Reportaget består av 11 sidor
This summer I have had the luxury of two weeks vacation. First one week in May in Bulgaria and later in September one week at Djerba an island outside the east coast of Tunisia.
This report includes 11 pages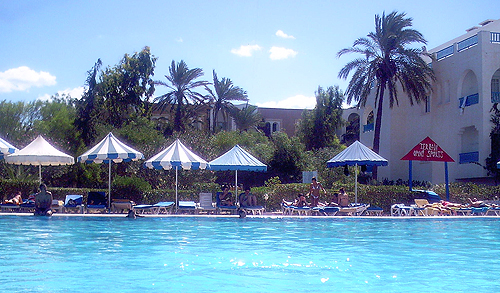 Hotel Abir
Resan var definitivt inte anpassad för gamla tantben och vi fick en smärre chock, när vi anlände till hotellet. Det stod visserligen på Apollos sida att det inte fanns hiss, men vi trodde att vi skulle kunna lösa detta genom att begära ett rum på första våningen. Och visst fick vi det - i en fuktig källare! Hotellet var byggt som ett souterrainhus med receptionen på andra våningen, matsalen på första, poolen en halv trappa ner och sedan ytterligare en halv trappa ner till vårt rum!
This journey was definitely not adjusted to old ladies legs. Even though Apollo said that there would be no elevator in the hotel, we thought we could manage that by asking for at room at the bottom floor. And we got that - in a dump cellar! The hotel was built as a souterrain house with the reception on the second floor, the dining room on the first floor, a half staircase down to the pool and then further half a staircase down to our room.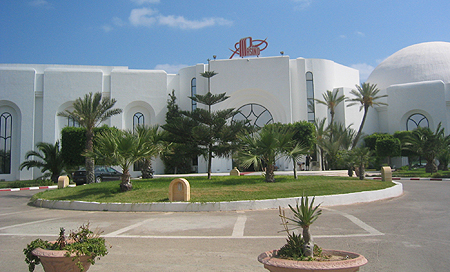 Välkomstmötet hölls på kasinot/The welcome meeting was at the casino
Som tur var, gick jag rätt bra, när jag kom, men detta försämrades efter en spännande bussresa, med de hemska ENORMA trappstegen som man ska besegra, när man går på och av en turistbuss. Sedan haltade jag i tre veckor, men det var det värt.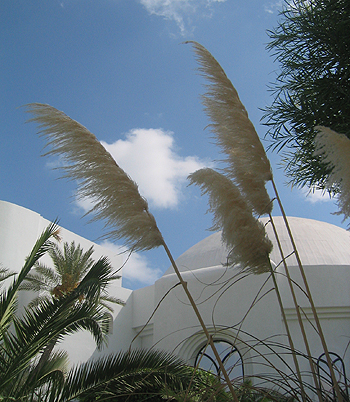 Luckily I could walk pretty well, when we arrived, but I got worse after an exciting bus trip, with the ENORMOUS steps that you have to concur, when entering and leaving a tourist bus. After that I limped for three weeks, but it was worth it.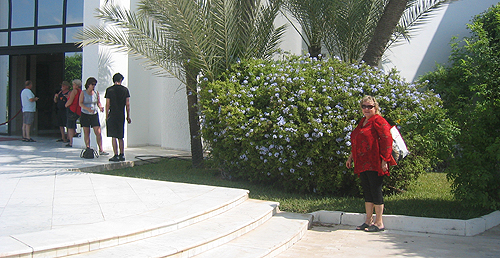 Ingerbeth utanför kasino/Ingerbet outside the casino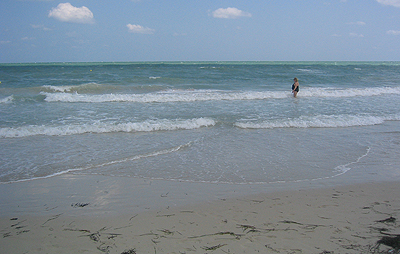 För skam skull gick vi ner till havet en dag.
We had to try the sea one day.