till Internationella Nalledagen
Ta gärna med dig en nalle från mig/Please take a teddy from me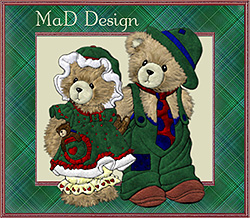 Internationella nalledagen hör kanske inte till de mest välkända högtidsdagarna.
Nalledagen har sin största spridning i USA och Storbritannien
Anledningen till att Nalledagen firas just den 27 oktober beror på att det var den amerikanske presidenten (1901-1909) Theodore Roosevelts födelsedag.
Roosevelt, vars smeknamn var Teddy, deltog i en björnjakt och fick korn på en björnunge, som han dock vägrade att skjuta. Händelsen avbildades i en skämtteckning, och en leksaksfabrikant fick då idén att tillverka björnar med namnet Teddy.

This year marks the 100th birthday of the beloved Teddy Bear, a toy inspired by President Teddy Roosevelt's Mississippi hunting trip in November of 1902.
As the story goes, store owners, Morris and Rose Michtom, read in their local newspaper about President Roosevelts refusal to shoot a bear that had been captured and presented to him at the end of an otherwise unsuccessful bear hunt. From this article and a cartoon by Clifford Berryman, which illustrated the event, the Michtoms created a stuffed bear toy and called it "Teddy's Bear."
They sent the bear to President Roosevelt, asking permission to use his name. Permission was rather laughingly granted, as Mr. Roosevelt could not imagine how his name could contribute to the success of a toy bear. Nevertheless, "Teddy's Bear" became the forerunner to today's teddy bear and has become a symbol of Teddy Roosevelt and a heart that never ages. Since then, teddy bears have become one of the most loved companions for generations of children.

Tack för alla söta nallar/Thanks for all your sweet Teddies.