2000/10/30
The first autumn storm is roaring around the house and garden. Since the cats hole is fully open, you can feel the strong wind indoors at some places. Dang - a metallic sound, which I cant figure out. I've tried to sneak up on it, but as soon as I stand looking out the window, it stops. I've put the heat on indoors. With the warm season we have had, I haven't used it much so far. Only two weeks ago I still could eat out in the garden. The cats are commenting the storm too, but they don't seem worried. Dang - there is that sound again. Probably parts of the old pool running around. Caprifol keeps bringing in small worms and stuff for me to eat, but she doesn't seem to upset, that I don't like it. Both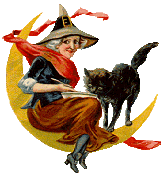 doors are locked. On the backside I've had to use dogs leaches. The door don't fit properly in my old house.


It's only five in the afternoon but pitch dark outside. Clock was set back from summertime the other night and nature seems to have taken it literary.
As I sit here in the office making this totally unuseful Halloween Greeting for you all, I think about all the friends I've made on the net during the last years and all the joy you give me.