Tulpanens dag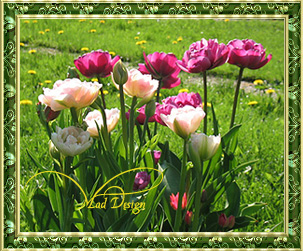 Tag gärna med dig dessa tulpaner från min trädgård
Please take these tulips from my garden
Tulpanens Dag firas lite olika beroende på var i Sverige man bor, mellan den 15 och 20 januari.
Då delar Blomsterfrämjandet ut totalt ca 6000 tulpaner till allmänheten i Stockholm, Göteborg, Kristianstad, Växjö, Uppsala och Sundsvall.
Tulpanens Dag har sedan 14 år tillbaka blivit något av startskottet för den stora tulpanförsäljningen
som pågår i Sverige fram till påsk.
Registrering av tulpaner sker hos den Kungliga Lökodlarorganisationen i Holland, som har ca 6000 tulpaner registrerade. Tulpaner döps ofta efter kändisar. Även svenskar har fått tulpaner uppkallade efter sig tex Princess Victoria rödvit, Ingemar Stenmark rosaröd, Abba dubbel röd.
***********
On the 20th January we celebrate the national Tulip Day in Sweden, when the Flower Society hands out about 6000 tulips to the public in the cities of Stockholm, Gothenburg, Kristianstad, Växjö, Uppsala and Sundsvall. The Tulip Day has, since the past 14 years been the starting point for the big tulip sales in Sweden, that continues until Easter.
The registration of tulips is made at the Royal General Bulb Growers Society who has about 6000 tulips registred. Tulips are often named after known people. Even some Swedish people have tulips named after themselves as Princess Victoria red-white, Ingemar Stenmark pink-red, Abba double red.
http://tulips.blomsbulbs.com/classification.cfm
***********
Tack för alla underbara blommor/Thanks for all the wonderful flowers