Sicilien augusti 2010
Ingerbeth och jag har varit på resa igen denna gång till Cefalu på Sicilien med Solresor.
Vi är väldigt nöjda med vår semester, men det var mycket smolk i bägaren.
Ingerbeth and I have been travelling again this time to Cefalu in Sicily by Solresor
We are very pleased with our vaction, but there were some severe disturbances
Detta reportage består av 9 sidor
This report is 9 pages long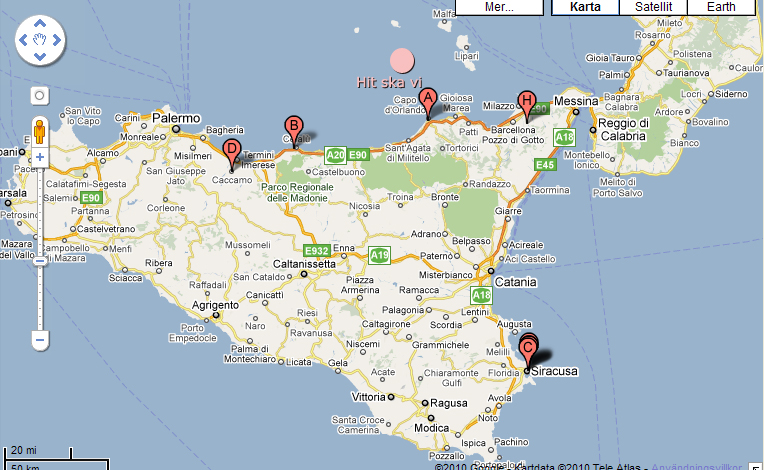 Cefalu ligger vid bokstaven B/Cefalu is situated at the letter B
Cirkusen började redan på flygplatsen, där vi inte lyckades få tag i någon bagagevagn, det hade vart värdefullt att veta att man skulle ha en lös euro med sig och kullminerade när bussen till hotellet stannar nedanför en brant backe och vi står där, jag med rollator och resväska (till detta behövs tre armar) och det var fler än jag, som hade svårt att gå i uppförsbacken med sitt bagage. Guiden var totalt värdelös och bara pratade om promenader och promenadskor i över en timme, totalt blind för mångfalden och behoven hos sina gäster.
The circus started at the airport, when we failed to get a lugage trolly. It would have been helpful to know in advance that one euro was needed and culminated when the bus to the hotell stopped below a steep hill and there we are, me with my walker and a suitcase (for this you need 3 arms) and more guests had trouble walking uphill with their lugage. Our guide was absolutely worthless and just kept talking about walking and walking shoes for over an hour, totally blind for the variety and need amongst her guests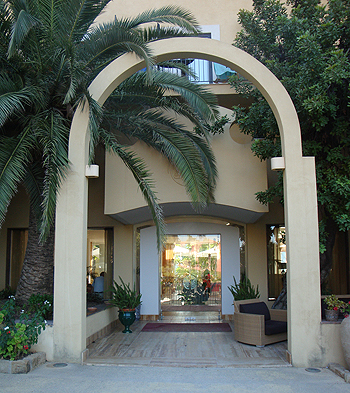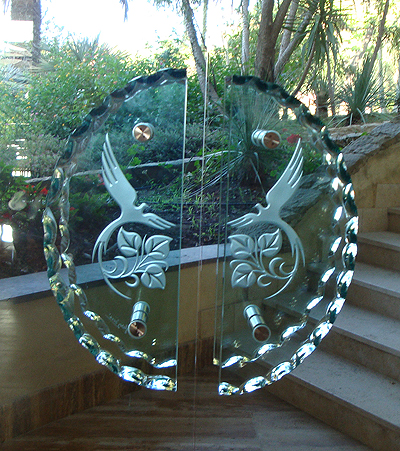 Hotellet var fräscht och nybyggt med underbar personal, men hade också det allvarliga brister. Den ena var de två stackars fåglarna en svan och en gräsand som hölls i en liten inhägnad med enbart en span vatten och ibland ett alldeles för litet fågelbad, svanen fick inte ens plats, med vatten några timmar vissa dagar. Vi försökte påverka och säga till, men när vi åkte, var det inte åtgärdat. Det andra problemet var renheten på vattnet i poolen. Det såg rent ut, men innehöll tydligen grymma bakterier. Jag fick in poolvatten i mina bihålor tredje dagen. Detta var den 26 augusti. När vi skulle åka hem var bihålorna inflammerade och ena örat, vilket gjorde flygresan lite obehaglig. Hemma svullnade till slut även mina ögon och jag fick söka läkarhjälp och har tagit antibiotika i 14 dagar. Kuren är över men i skivande stund, den 22 september, har jag fortfarande ont i örat.
The hotel was fresh and new and with a wonderful staff, but also with some serious disadvantages. One was the two birds, one swan and one duck in a very small enclosure with only a bucket of water and sometimes a much to small bath, no room for the swan, with water only some days a few hours in the day. We tried to influence and talk to them, but when we left tha problem was not solved. The other problem was the pool water. It looked claen but must have contained some very cruel bacteria. Some water entered my sinus on our third day. This was the 26th of August. When we were going home I had sinusitis with one ear affekted, which gave me some dicomfort during the flight. At home even my eyes swollenned and I had to see a doctor and I have taken a 14 day cure of antibiotics. It is finished but today, on the 22nd of September my ear stilll aces.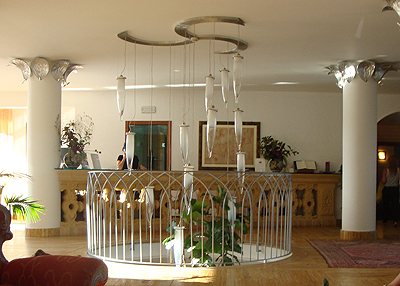 Receptionen på Alberi del Paradiso